Mailbox configuration¶
Under Hosting -> E-Mail you can create and edit e-mail addresses. Click the button Add mailbox/address to create a new e-mail address, or click on an existing address in the table below to edit.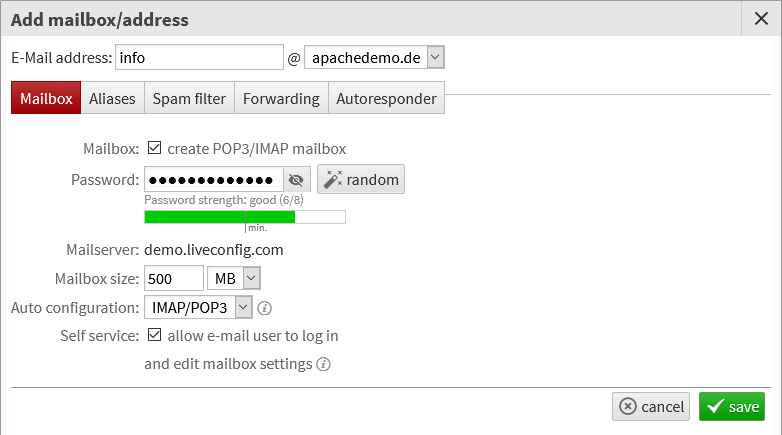 At the top, you define your e-mail address: enter an address name (the part left of '@') and select the domain name. If your desired domain name is not listed in the drop-down menu, you propably need to enable e-mail for that domain first, see domain settings.
Mailbox: enable this checkbox to create a "real" mailbox (for sending and receiving e-mails). If not checked, incoming e-mails are just forwarded to another address (see Mail Forwarding).

Password: here you define the password for sending and receiving e-mails. This password should be unique and not identical with any other password your're using.

Mailserver: this is the "official" name of the mail server for sending and receiving e-mails. You need to know this server name when you configure your e-mail client.

Mailbox size: this is the maximum size of your mailbox. You will automatically be notified if your mailbox reaches this limit.

Auto configuration: if auto configuration is available on the server and enabled for the domain, you can enable/disable it here for this single mailbox, and select whether you prefer IMAP or POP3 for fetching your mails.

Auto configuration is a feature for certain mail clients, which allows them to automatically detect all important configuration options. Windows Mail, Outlook and Thunderbird then only require your e-mail address and mailbox password, the rest is detected automatically.

Self service: if this option is enabled, you can log in to LiveConfig with your e-mail address and mailbox password to change the e-mail password or edit the autoresponder.